[dal Bollettino 59]
Thinking as anarchists. Interview with Giovanna Gioli and Hamish Kallin

HK: Hamish Kallin – GG: Giovanna Gioli

CSL – How did you come across this manuscript translated and published by the Centro Studi Libertari in 1986? Why, more than 35 years later, did you decide to turn that manuscript into a real book by translating and publishing it in English?
---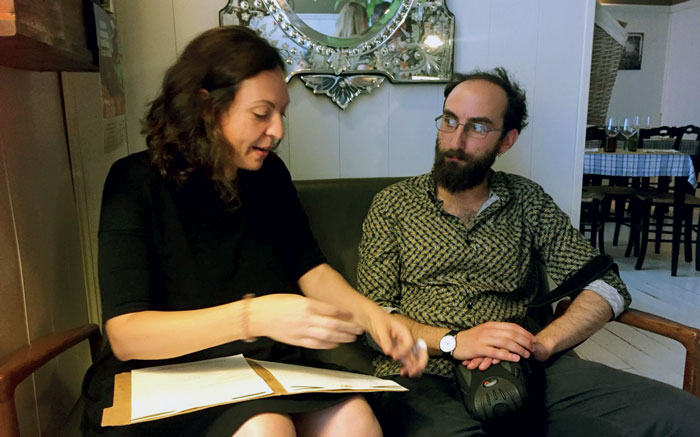 Bologna, 2018, Giovanna and Hamish during their Italian Grand Tour which also led them to visit Circolo Camillo Berneri. While waiting for dinner, Giovanna tries to translate, in words and gestures, the menu at Hamish.
---
HK – Honestly, the manuscript was discovered by chance. The only contributing factors were, first, a bookshop proprietor who was not afraid to acquire and sell interesting political texts and, second, my habit of picking up anarchist literature wherever I found it. If my memory serves me correctly, the manuscript was £3, and I could not figure out much about it other than it looked interesting, and I found the "anarchist Da Vinci" on the front especially intriguing (as I later found out, one of many brilliant designs by Ferro Piludu. Once the project began, I returned to the bookshop (Main Point Books in Edinburgh) and asked the proprietor (Jennie Renton) if she could remember where it came from – and, astonishingly, she could! So we now know that it came to the UK after being picked up at a left-libertarian conference in the Netherlands in the late 1980s. The link was Peter Kravitz, a well-known literary editor in Scotland who, like other members of that generation of young Scottish fiction writers (most famously James Kelman), was interested in the anarchist tradition. I read it, cover to cover, and found it fascinating, but also quite impenetrable (the original translation effort was admirable, but clunky). At that point, mid-way through my PhD, I remember being most struck by Eduardo Colombo's chapter on the state. For my own research, I was having to read through a lot of critical state theory, and the anarchist voice is usually missing from those debates, often because non-anarchist state theorists ignore it completely, but also because anarchists haven't been very good at trying to define or explain what we mean by the state in conceptual terms. So Colombo's chapter seemed very original to me, and for this reason I had a feeling the manuscript was something special but was not sure what to do with it. The idea of getting it published began because I was aware that it hadn't been – searching online for any trace of the manuscript "in the wild" revealed only dead ends – and some combination of my own ignorance of the work of its authors (despite being fairly well versed in English anarchist literature) and a belief in the value of the work made me want to share it. I initially thought about just scanning the thing and dumping the pdf on some kind of online repository of radical texts. Not a bad idea, certainly, but one that wouldn't overcome the unevenness of the translations, and it felt a bit lazy. I toyed with the idea of trying to get it published as a book, because I thought it would be great to bring it to the attention of more people, but in such a way that the contemporary English-speaking reader might be able to grasp it more easily than I initially did. But at that stage I felt completely unsuitable for the task, which only coincidence had gifted me. I cannot even speak Italian! Then came Giovanna…
Giovanna was appointed as a Lecturer in Disasters in the Edinburgh University Geography department in October 2017. I loved this job title, which was supposed to convey the subject matter in sober terms – so-called "natural" disasters, their uneven impacts, etc. – but also seemed somewhat perfect for Giovanna, who was, as my polite Anglo-academic colleagues might put it, "a force of nature". We got on well. When Giovanna saw the manuscript for the first time, I recall a mixture of glee, surprise, and swearing. How did I get this? Who was I? The real story, as relayed above, was probably a bit of a disappointment. But with Giovanna on board, the project now seemed feasible rather than fanciful…
---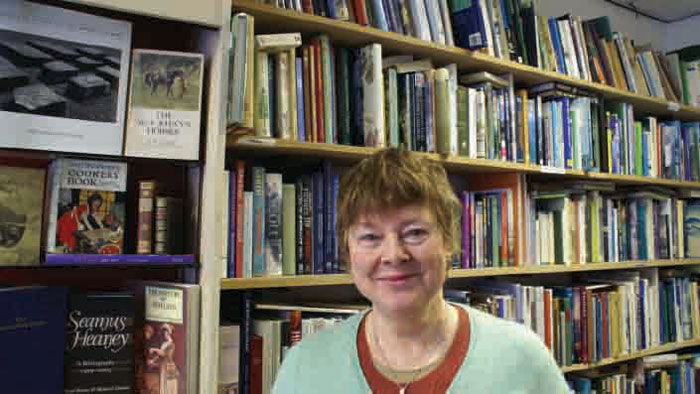 Jennie Renton in her bookshop, Main Point Books in Edinburgh.
---
GG – I must say, we had a lot of fun. We got a small grant from our University to visit Milan (CSL), and we also managed to go to Bologna (Circolo Berneri) and to Castelbolognese and Forlì. We wanted to publish the book with a good anarchist publisher, so we approached AK Press, but after an initial positive response and months of waiting, they declined. We then approached academic publishers and we signed a contract with Edinburgh University Press. We are painfully aware of the crazy cost of the hardcover edition of the book, but we are happy to say that EUP has committed to a paperback edition in 2023.
---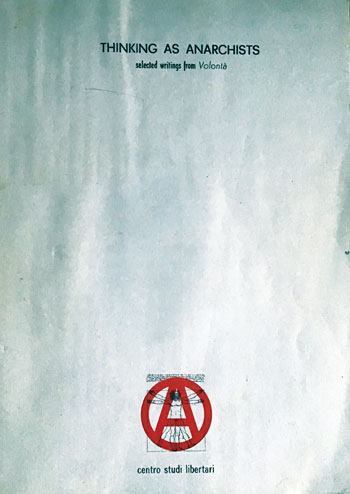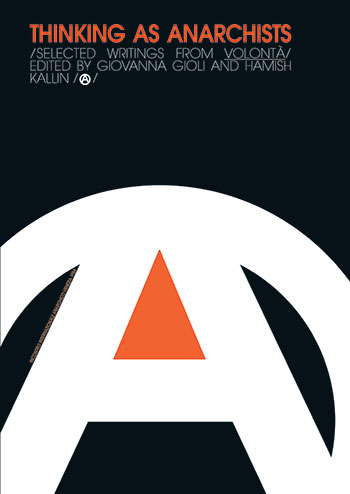 On the left, the spartan title page of the original typescript, with the Vitruvian man in an anarchist version. The image, conceived by Ferro Piludu, a long-time CSL collaborator in numerous graphics and communication projects, was the first logo of our study center. On the right, the cover graphics of the English edition, taken from a poster made for May 1, 1977 again by Ferro Piludu.
---
CSL – In your opinion, are the published essays pure expressions of those years or do they have something to say about the present?
HK – Both. We were – and are – convinced that the material is of historical value (as expressions, whether pure or not, of those years). In this sense, the manuscript is a "missing piece" of the history of anarchism at a moment of profound change. This was after 1968. After the long (and violent) 1970s. After the depletion of the "classical" anarchist movement and the stale, brutal, delegitimisation of state "communism". After the petering out of those Italian experiments in "autonomous" communism. The forces of neoliberalism (individualism, the subsumption of freedom to consumerism, market-fetishism, state authoritarianism, and so on) were already on the rise; the unravelling of so many theoretical certainties (what we would now call "poststructuralism") was underway. This is sometimes considered a fallow period for anarchism, but it is fascinating to see how anarchists tried to make sense of these seismic shifts. The texts contain a fidelity to The Tradition mixed with a restless teasing at its edges, and above all, a reckoning with the scary fact that nothing we had already done was quite enough. So, yes, these texts are of value to historians of anarchism, as expressions of that time.
But this is, of course, only a "missing" piece in English, not Italian. Publishing the texts takes on an additional role, then, helping to overcome some of the language barriers that anarchism – as an avowedly internationalists movement – has often grappled with in such inspiring ways.
And finally, the material is interesting because it is interesting. The questions it tries to answer: how do anarchists theorise the existence of state power? What distinguishes domination and authority? How is patriarchy related to domination more broadly? What do we do with the idea of utopia? Ultimately, what do we do with anarchism to keep it relevant, politically and intellectually? These are not questions we have fully answered, even now. Until we do, these texts will have something to say about the present, a present characterised by new waves of authoritarianism, misogyny, and state-fetishism, where the utopian impulse becomes harder and harder to find.
CSL – What are the lines of thought that most interested you? What is the Italian Theory towards which you had to contextualize the published essays?
GG – This is a question is very close to my heart, because it pertains to the conceptual reasons behind "Thinking as Anarchists". The first reason, at least for me, is the non-authorial nature of the style of thinking of the Volontà group. Despite the anti-authorial declarations of many maître à penser, it is rare to encounter a thought that truly develops beyond the logic of auctoritas and rather pivots around clearly identifiable themes, which are still crucial for political thought such as: the productive capacity of the imaginary, the role of utopias, stateless societies, power versus domination, bureaucracy and new masters. Libertarian Anglophone readers will find some connections to David Graeber's ideas in the anthology, but above all they will find plural thinking. The texts resonate powerfully with each other, and when translating them I often had the impression of polyphony, of translating a non-single voice. In translating the references, I encountered some problems, because in English there is really no codified equivalent of the Italian AA.VV. (Various Authors). When I asked the publisher for directions, EUP suggested using only the title, without the author, thus failing to grasp the meaning of my question. Together with this, the attention to visual communication deserves to be mentioned as a separate conceptual dimension that characterizes all the publishing activities of the Volontà group, from the journal to the elèuthera publishing house, passing through the materials prepared for Venice 1984. We wanted to give space to such innovative visual research in the anthology, and we tried to include as many images as possible.
---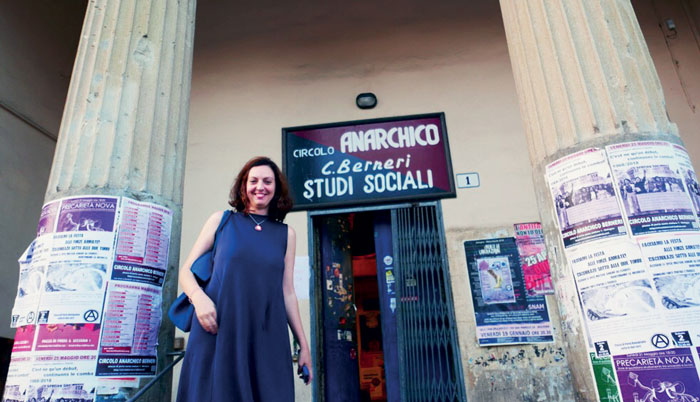 Giovanna Gioli at the entrance of the Circolo Camillo Berneri in Bologna on 1 June 2018.
---
In the introduction, we tried to remain faithful to what we wanted to say, but in a constant exercise of historical-conceptual contextualization. We have considered not only how much the readers of the anglosphere tends to know only tangentially or ignore (like Pinelli and Piazza Fontana, the years of lead, and the 'riflusso'), but also what they are likely to have in mind, such as the growing wave of interest in Workerism and the fashionable "Italian Theory". As is well known, the invention of "Italian Theory" is linked to the editorial success of two texts published both in English on the threshold of the new millennium: Homo Sacer (1998) by Giorgio Agamben and Empire (2000) by Toni Negri & Michael Hardt. Given the success and diffusion of these texts, the interest of the English-speaking world points to previous texts of these same authors, and to the (re)discovery of authors, (see the recent English translations of Mario Tronti, starting with Workers and Capital, 2019) who belong to the heterogenous universe of "Italian Theory", from Workerism to Biopolitics (e.g. Roberto Esposito, Paolo Virno, Maurizio Lazzarato, Sandro Mezzadra. All men, of course, with the occasional sprinkle of feminism as some anthologies include Luisa Muraro). The consolidation of the term "Italian Theory" comes with the publication of various edited volumes in English about a decade ago.
However, I am not so interested in establishing what "Italian Theory" is, because I abhor any national qualification of thought, and also because I believe that there is little to say. I remember a philosopher colleague at the University of Kiel, to whom I gave a copy of the volume "Italian Critical Theory" (2011) (I must confess that I translated an essay by my doctoral supervisor, Rocco Ronchi for the anthology). He looked at me a little dismayed and amused and said, "I didn't know there was such a thing!" I still think that he got it right. To be sure, what matters to me here, and mattered to us in the introduction of "Thinking as Anarchists" was to emphasize at the same time the proximity and the radical otherness between the experience of Volontà and what is known under the label of "Italian Theory". The otherness is obviously political, and descends from a critical questioning that pivots around domination and dialogues with crucial figures who remain marginal, not only with respect to the "Italian Theory", but also to its more famous and older cousin, "French Theory": Cornelius Castoriadis, Pierre Clastres, René Lorau, to name a few, and not Michel Foucault (who is so important for "Italian Theory"). It is a matter of choice, and not of negligent forgetfulness or even ignorance, as an ahistorical or deaf reading of the context could lead to thinking. Translating this anthology then for me also meant contributing to reactivate this minoritarian line of thought, and point at its relevance today (and I am saying this as someone who continues to love more popular authors and wrote a PhD on Gilles Deleuze). Finally, the proximity to the heterogeneous "Italian Theory" is given by the often-shared spaces of struggle and critique, by the experiences of self-management, by everything that the anarchist workshop has produced and was then appropriated by a certain left. This left continues to tell the story of 1968 and 1977, and what ensued from it, silencing or minimizing the importance of anarchist practices and voices, which fortunately, can hardly be identified by a revered "Author" or a "Leader".
CSL – How well known is Italian anarchism in the UK, both from the historical point of view and from the point of view of thought?
HK – Well, Malatesta, of course, is well known, but even so, the job of translating his completed works into English has only very recently been started (edited by Davide Turcato and published by AK Press). His pamphlet Anarchy has been reprinted many times in English by Freedom Press over many decades, and is easy to get hold of. There have been some notable books about Malatesta and his influence (Turcato's Making Sense of Anarchism) and Italian anarchism more generally (Nunzio Pernicone's Italian Anarchism, 1864-1892) translated into English and also published by AK Press. Colin Ward touches (very briefly) on the Italian connection in his 2004 Anarchism: A Short Introduction (Oxford University Press), as does Clifford Harper in his wonderful 1987 book Anarchism: A Graphic Guide, which my dad gave me when I was a teenager.
In terms of "thought", to try and answer this particular aspect of your question, I feel is more difficult. I don't believe that anarchist lineages of thought are easily traceable because, let's say, anarchists have been good at resisting the intellectual property approach to citation, as well as canonisation of certain good ideas. Let me be clear, I am not calling anarchists plagiarists! I just mean it is sometimes hard to know where ideas end up or come from, because there was more sharing than we have proof for (though I am not an historian, so let me admit my weakness in that regard). I was struck, for example, by the similarities between the "social anarchism" of Colin Ward's work and the content of Volontà, in terms of the search for a concept of revolution that was somewhat closer to reformism without being simply liberal reformism and a desire to connect anarchism to the "everyday" spaces of life. Who influenced who? I don't think it's worth trying to answer that – the point is, there was clearly a strong connection (I don't need to tell the CSL this!). The clearest statement of this is in Talking Anarchy, a lovely extended interview between Colin Ward and David Goodway (published in English by Five Leave Press in 2003), which was initially a project proposed by Rossella Di Leo and Amedeo Bertolo and published by elèuthera in Italian. In it, David asks "You developed great empathy with all things Italian, didn't you? How did this originate?" and the answer is well worth reading. I won't try to summarise it all here, but the point is that there was clearly a deeply held sympathy and respect, in part because so many Italians ended up in Britain during the war (whether as anarchists in exile or prisoners of war).
Anyway, this is a bit of an academic (or bookish) answer, and I certainly don't want to imply that Colin Ward is "anarchism in the UK": what I'm trying to say is that Italians are no strangers in the British anarchist imaginary, but there are inevitably gaps. I wasn't born until four years after the 1984 Venice conference, so there are limits to my ability to answer this from a personal point of view. One thing we can be certain of, however: despite a few (abridged versions) of the texts in our anthology having already appeared in English, the vast majority of the content hasn't been easily available in English at all, and we're confident our translations are the clearest yet.
---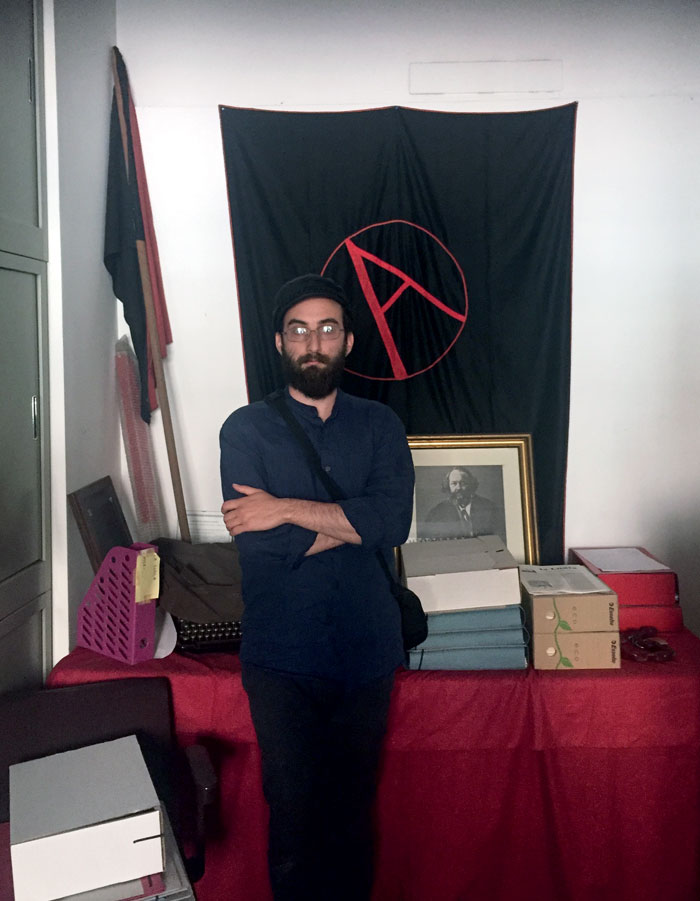 Castel Bolognese, 2018, Hamish poses among anarchist memorabilia during a visit to the Biblioteca Libertaria "Armando Borghi".
---
CSL – One of the recurring criticisms by non-Anglophone anarchist movements is that the linguistic imperialism of English also heavily influences international anarchist thought, which is now based only on the publications available in this language and consequently does not reflect the complexity of contemporary anarchism is exhaustive (see for example the elaborations of post-anarchism based only on the texts present in English, including the classics). Your operation certainly goes in the opposite direction. Do you have any suggestions to de-provincialize this approach and restore a truly internationalist configuration to anarchism?
GG – As an Italian who can read several languages ​​and has been working abroad for 12 years, I have learned to navigate many aspects of the Anglosphere, starting with its stubborn self-referentiality. There is a barrier of disbelief to overcome, an opaque second-rate reality which is associated with what is not expressed in English. The relatively scarcity and often low quality translations of Italian (libertarian) texts – which certainly applies to all romance languages, even if it is significantly better for French – amplifies this opacity, which is further aggravated by Anglophone publishers' tendency to reduce to the bone, if not eliminate, critical apparatus and footnotes.
I spent years in Nepal, Pakistan and India, where the linguistic imperialism of English perpetuates the violence of colonialism. I met many new libertarian friends in these countries and I resented not being able to share some of my favourite texts with them, as they are not available in English. The hegemony of Anglophone anarchism not only obliterates the spread of contemporary anarchism within the West, but also erases them from millions of people living in the "Majority world" (which I must confess, I don't know how to translate in Italian!). The labour of translating the texts of Volontà for me was driven by the desire to enhance accessibility to an incredibly important, international, and magnificently obscured experience.
Thanks to our different positionalities, I could immediately understand when my translation work "opened up" a text for Hamish. His eyes shone, I don't know how many times I heard him say in our editorial discussions, "oh, now it makes sense!" Witnessing these little miracles motivated me and further convinced me that even small textual attentions radically change the penetrability of a translation. An example: one of the texts of the book (The sources of the Nile, Rossella Di Leo) had been reproduced in a reduced form in a couple of Anglophone anthologies, in a much improved translation as compared to the manuscript. Despite this, it stubbornly continued to translate the Italian word "succube" with "succubus". A very common adjective in Italian, which designates submission, becomes a seductive demon of Roman mythology! This persistent mistake is funny, but its persistence is also a symptom of a mutual impenetrability, of a lack of ease in inhabiting each other's language.
Ruth Kinna in her generous blurb for our anthology recalls the appeal of Gustav Landauer, who asked anarchists to resist translation and learn to 'think and feel' unfamiliar languages. I believe this is a fundamental anarchist imperative, to allow ourselves to be uncomfortable, disoriented, to force ourselves to think differently. The experience of Volontà/elèuthera certainly did so, in stark contrast with the hegemony of English (inside and outside academia), and with many professors I met during my philosophical career in Italy, who continue to snub English as an inferior or non-philosophical language, even though they don't know it!
HK – I just want to add that one of the things that was most amazing for me in the process of doing the work of this anthology was how helpless I often felt. When we met people in Italy, my ability to converse was limited, and almost non-existent without Giovanna. And in the long work of re-translating the manuscript, I was her assistant, an unorthodox dictionary of sorts, but powerless to do much more (lest I give the impression of laziness, I think Giovanna would agree I helped in other ways!). I was an "editor" who couldn't read the source material. Madness! But also generative of a specific curiosity that forced me to surrender any sense of control over the meanings of this work, and also led us to a genuinely dialogical editorial partnership, which meant that we found connections that wouldn't have been clear to us unless that translation had been difficult.